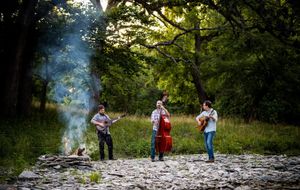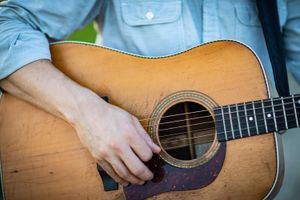 A trio of longtime friends and musical collaborators, Kansas City's Old Sound crafts traditional and original acoustic folk music. Led by Grady Keller's imaginative storytelling, Old Sound travels through song with beckoning three-part harmonies and evocative acoustic compositions. The trio is strengthened by the exploratory bluegrass flat-picking style of Chad Brothers and the playful doghouse groove of Greg Herrenbruck on upright bass, both of whom also take turns leading the group vocally. With musical roots in their hometown Winfield, Kansas, Brothers and Herrenbruck cut their teeth in the picking circles and campground stages of the Walnut Valley Festival. Paired with Keller's colorful melodies and lyricism, Old Sound's approach makes for rich live performances and easy front porch listening.
Old Sound released the studio album "Rain Follows The Plow" in Spring 2014.  Recorded and produced by Phil Wade of The Wilders, the album showcases the band's well-worn chemistry and acoustic musical interplay.  The Pitch Magazine said "Rain Follows The Plow assuages any headache, calms any painful maladies and stirs you out of any dusty depression."  The trio also released the holiday album "An Old Sound Christmas" in November 2017, putting "a new spin on Christmas" according to KSHB TV.  The band performs regularly in Kansas City and regional area festivals, club venues, breweries and listening rooms, including past residencies at Worlds of Fun's WinterFest. 
In November 2020, Old Sound released their third studio album "Deluge".  The music of "Deluge" dives deep into the band's 20-year chemistry, showcasing artful new approaches to traditional acoustic sounds. With the release of "Deluge", Old Sound drives further into its original acoustic soundscapes and strong three-part harmony. The wide range of songwriting stretches the band creatively and reflects on topics that are timely and relevant in current societal conversations. "Deluge" is a downpour of songs and lyricism across multiple themes.